AssignmentRoo.com Review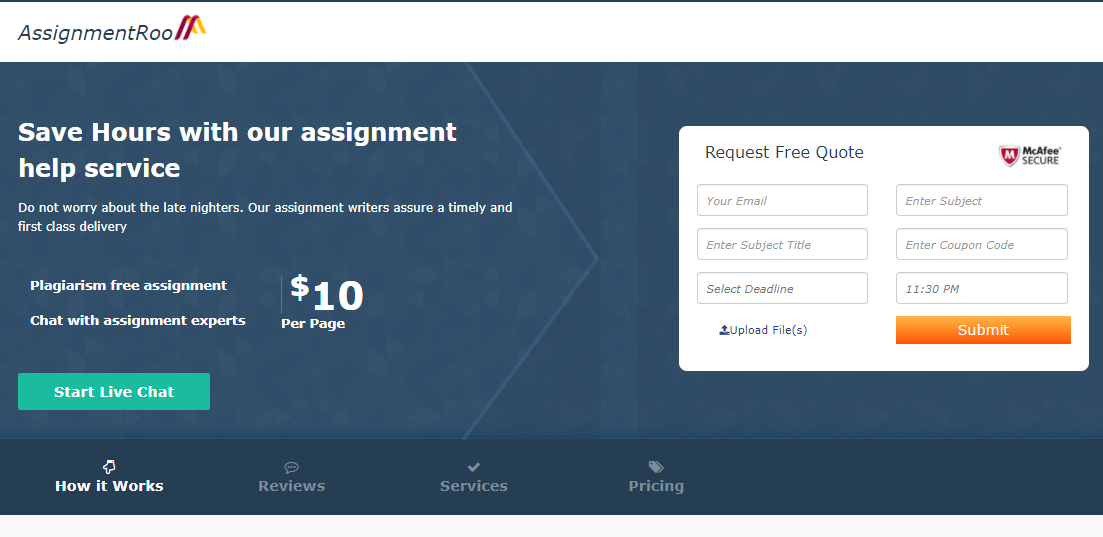 6/10
AssignmentRoo.com is one of those essay writing services that looks okay on the surface but is nothing less than a paper tiger. For example, they say that PayPal is their payment partner, but all they did was put the PayPal widget on their website. Their website is littered with spelling and grammar mistakes. AssignmentRoo.com is another spam website that posts logos of the websites and companies they are associated with, but the logos are not linked to anything, nor does the company have any association with the companies that they claim support them.
The most burning and painful lies are the ones around their social media profiles. Anybody with a smattering of social media sense will see through them. For example, how many Facebook fan pages do you know that have exactly the same number of Facebook likes as they have Facebook followers? How many people supposedly have over 2000 Google+ followers, and yet none of their posts have a single like? Do a little investigating, and you too will see some of the many signs that this website is little more than a tissue of lies to hide the fact it is a 100% genuine spam website.
Prices
You have to request a quote if you want a price for your project. They ask for your email address, your subject, deadline, and all the usual details, and then they make you wait between 24 and 32 hours before you get an answer. What is worse is that they ask for your deadline, but by the time they get back to you your deadline has lost a day.
In a mad attempt to get some prices, we got a few quotes. Their minimum price is $10 AUD per 250 words, which is already annoying because most essay writing services charge per 275 words. If you want your project delivering in fewer than 10 days, then it will cost you around $23.
List of Services
Good luck trying to find their list of services because they do not have one. We asked the customer service department and they said, "Submit your project and we will do it." We kept asking what types they do, and they just said, "Submit it and we will do it." Sound legit? The fact that this company has covered the spammy nature of their website so well is frightening because some people are not going to look past the fake reviews and spelling mistakes and they are going to give this company their personal details and their payment details.
Discounts and Free Features
AssignmentRoo.com claims that they have discount codes and they even have a space for them on their order form, but we couldn't find any anywhere. You can cheat your way into a saving if you have PayPal. AssignmentRoo.com has a terrible currency conversions system, so you can check your currency rates against the other currency rates to see if you can make a saving by paying with a PayPal or Skrill in another currency. For example, why would you pay $10 AUD, when you could buy AUD$10 of USD and spend less?
Customer Support
Either the customer service department is robotic, or it is staffed by people who are not allowed to deviate from the script. We tried calling, but we had no luck, so we used their live chat function. As you read earlier in this review, we tried and tried to get straight answers, but they kept stonewalling us.