Au.essay-writing-place.com Review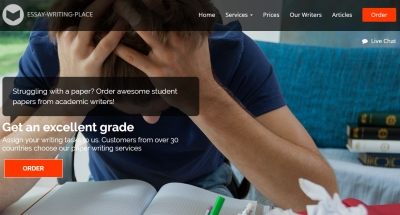 Featuring a fairly simple website design, au-essay-writing-place.com offers some interesting features for their customers. And even though the website is very plain in terms of design, you can find all relevant information here. Finding the pricing, list of services and contacting information was piece of cake, but we cannot say we are very happy with the results. Au.essay-writing-place.com has some disadvantages when it comes to these important features.
Prices
Prices here start at only $11 per page, but this applies for a two-week deadline. If you take a look at the more urgent deadline options, you will find that the service is not so cheap after all. For example, a professional academic level paper with a deadline of 10 days costs $21 per page.
Still, these prices are not extremely high when compared to other services on the writing market. Ordering from this company would be a good bargain as long as the quality of service and content is high.
Unfortunately, feedback online leans towards low quality papers and service, which is very concerning.
List of Services
Services at this company are set in four categories: writing from scratch, editing and proofreading, multiple choice questions, and problem solving. But, even though this seems like a solid list, the papers offered are limited to only 5 options: essay writing, research paper writing, editing, dissertation writing and admission writing.
This makes for a poor choice in terms of services. Even if you like the company's prices and content, you won't be able to order all your papers from this one source.
Discounts and Free Features
When it comes to discounts, this company's offers are quite strange. First of all, they chose not to offer first-order discounts, which means that you have to pay the total price for your first paper. However, once you do, you get 10% of this order credit for your following order, which is the company's strange kind of a loyalty program.
This may be a great option if your previous order was big, but it is not a lifelong discount, so you do not really get a benefit for ordering more papers from the service. Basically, everyone gets a discount that accounts for 10% of their previous order.
In addition to this discount, the company has bulk discounts of 5% and 10%, but these are very hard to reach. As for free features, there is no mention of any, except for the extra features on the Pricing page you get additionally charged for: preferred writer, vip customer service, plagiarism report, etc.
Customer Support
You can reach the company's customer service via live chat or the phone number on the website. Feedback rates the customer service as available and very effective, which means that you can reach them at all times in case you have some troubles with the paper or the ordering process.
Generally, you are looking at a cheap service that aside from affordable pricing, also offers some unique discount options. However, the feedback regarding quality is concerning, as well as the company's limited list of services.