Secureassignmenthelp.com Review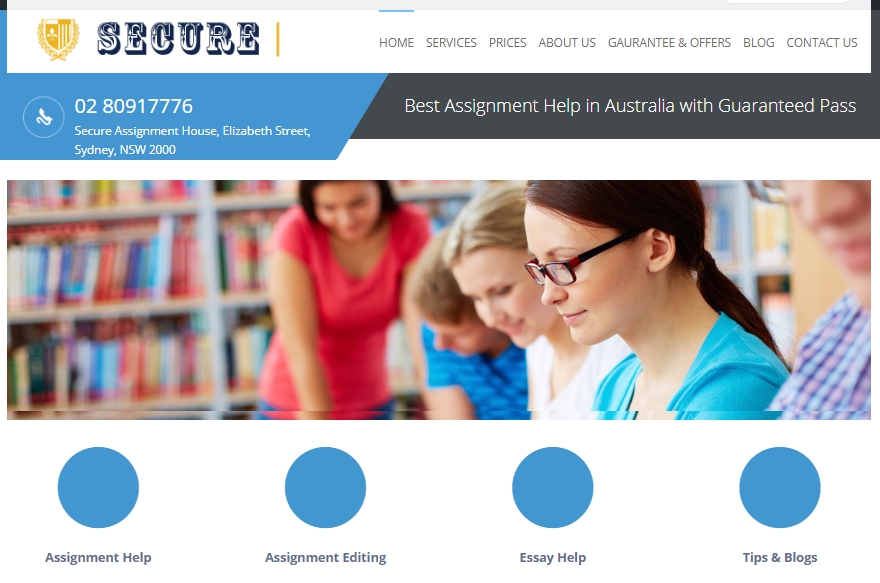 6/10
To say that you offer the best assignment help in the whole Australia area is a big step and this is exactly what secureassignmenthelp.com did on the website. Even so, there is no mention of this company by students who share their positive experiences or sites that list the best services in the area. The company is indeed legit, but their reputation does not fit the statement on the website that says 'best assignment help in Australia with guaranteed pass'.For that precise reason, it is essential to get a clear picture of their offers and reputation before you make a final choice in regard to the company that will write your paper. For starters, you will note that aside from those very promising statements, Secureassignmenthelp.com hasn't done a lot to create an easy-to-navigate website that's inviting to the visitors. Their design is a bit too plain and the information are hard to find.
Prices
Seeing that the website has a Prices page, you'd think that this page lists the actual prices. This is one of the most confusing parts about the website Secureassignmenthelp.com. There are only three prices listed there and the only criteria for these is the number of pages ordered. If you order 0 to 25 pages, the price is $16 per page. If you order 26 to 50 pages, the quote is $15 per page. Finally, if you order over 50 pages, the price is $14 per page.Of course, these prices are not the final ones and do not apply to any deadline you choose. These are just the 'best prices' you can pay at SecureAssignmentHelp. To get the actual quote for your paper, you need to get in touch with their customer service. Interestingly, there is no live chat you can use to do this.Customers who have gotten in touch with the customer service claim that these prices are for the longest available deadlines. For more urgent deadlines, the prices at secureassignmenthelp.com are said to be steep.
List of Services
As most things on the website, services are also not clearly listed for visitors to see. The only services in the services page are assignments and essays, which is disappointing for many who have other papers to order.Speaking to the customer service will give you access to information regarding pricing and services offered. This is really frustrating for a visitor of the website, but there is no other way to access this information.
Discounts and Free Features
After finding so many flaws with the site, we didn't hope to find such information. And we didn't. There are no discounts presented on the website of secureassignmenthelp.com, which is obvious considering that their prices are not really listed there, too.The bad thing about such services is that you never know how much you are going to pay for your paper. A lack of a loyalty program is not very helpful, either.
Customer Support
Even though their support service is not available on live chat, you can call them on the phone or send a request via the website. They respond promptly and are very friendly, but the responses remain as vague as the information on the site.Based on the lack of feedback online and the very incomplete website, there is no evidence whatsoever that secureassignmenthelp.com is a popular site in Australia, not to mention the best service as their website says.