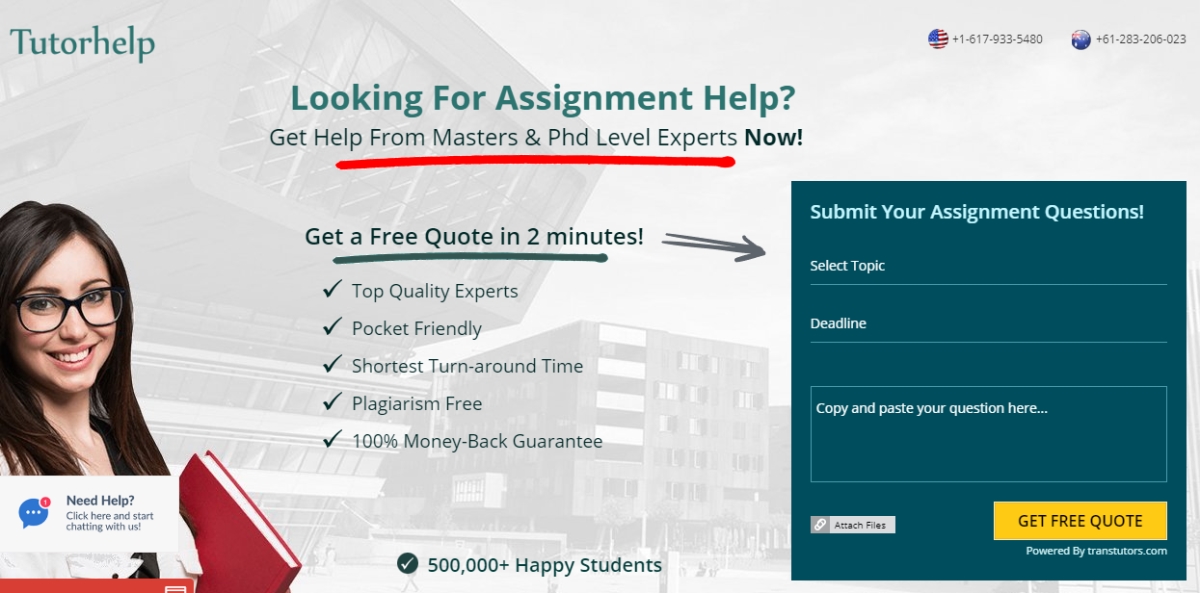 Our Score: 5.4/10
On the site tutorhelp.club, you'll find that students rated this writing company 4.89 out of 5. Strangely, feedback online says nothing similar to this. On the opposite, many customers have complained about the paper quality delivered by the writers at TutorHelp.Looking on the website, it is safe to say that the company hasn't revealed anything specific about their services. Aside from the homepage and a couple of other pages that explain the ordering process, there is no helpful information that will tell the visitors what price they'll have to pay for assistance, nor does it provide samples with written work to look at.
Prices
To access the pricing of Tutorhelp.club, visitors must ask for a quote. This is very time-consuming, so the company is instantly eliminated as an option for those with tight deadlines. Despite the fact that their support agents review order details right after their submission, it still takes a while to get a quote.To get a quote, you need to add all paper details and requirements. Then, the customer support reviews these and provides you with a quote.The quotes are higher than one would expect after reading the content on the site. In fact, considering the testimonials that mention bad paper quality, the quotes are way higher than what the content deserves.
List of Services
The only thing customers can select when requesting a quote is the topic. There is no mention of any services offered by TutorHelp, which means that you can basically request anything in the file with the paper requirements. It is then up to the customer support to accept or reject your paper, as well as provide you with a quote.This lack of services' information is very concerning since students can never know if they will get their next paper from this service. It makes Tutorhelp a poor choice of a regular provider.
Discounts and Free Features
Discounts are non-existent with this service. Since you get a quote for any order request you send, it is the customer service who decides on how much you will pay. Based on the pricing they offer, this is somewhat of a costly service even for returning customers, since there is no fixed loyalty program or any kind of benefit for those who keep ordering from Tutorhelp.Free features are also not mentioned.
Customer Support
Tutorhelp.club has a non-stop customer support, making it possible to get a quote right after you send out your assignment details. It still takes them a while, but the waiting period is not too long.Their customer service is very fast, but not as effective as one would think. They don't provide any information in regard to pricing or discounts unless you send them all the details for your order, which is a bit frustrating. But, after you send the order, they instantly review it and send a quote in a timely manner.The non-stop customer support provided by Tutorhelp.club makes the strange pricing system a bit less frustrating, but the lack of information they provide to the site's visitors is still very concerning. When you combine this with high prices and no discounts whatsoever, this company falls far behind the more competitive, higher rated writing services on the Web.